Drain Cleaning and the Roles of Responsible Garbage Disposal Operation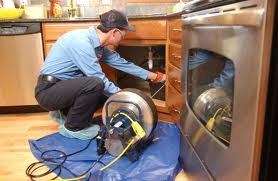 One of the biggest reasons your home needs drain cleaning on basically an annual basis is because humans live there. To be honest, there's not a whole lot you and your family can do about hair, skin cells, and other body dander that washes off you as you bathe. Of course, there's always the no showering option but as a common courtesy to your Vista neighbors it's probably best to just call Vista Plumbing and Rooter Pros instead.
The Dos and Donts
Of course, not all drain cleaning requirements occur from 'natural causes.' Easily the biggest source of clogged plumbing and slow-draining pipes is your home's garbage disposal. As much as Vista Plumbing and Rooter Pros preaches and preaches against it, many homeowners still use their residential garbage disposal as if it was an industrial shredder. When used properly, your garbage disposal is a great asset to the kitchen – unfortunately when used improperly it can also be a source of bacteria growth, insect breeding, and the source of the lingering scent of last week's supper, today.
For those reasons, follow some basic do's and dont's of garbage disposal operation:
Don't – put anything down your garbage disposal that isn't a biodegradable food product.
Do – follow the garbage disposal ownership mantra, "when in doubt, throw it out."
Don't – flush grease down your garbage disposal. It lines the walls of your pipes and solidifies, slowly closing the circumference of your drain.
Do – use cold water when operating your garbage disposal. Cold water causes any grease or oils attached to food to solidify so that it can be chopped up in the blades instead of hardening down in the pipes.
Don't – put large amounts of pasta or rice down your disposal as they expand with the constant exposure to water.
Do – cut up larger portions of food into smaller pieces, be a good team player for your garbage disposal!
Don't – grind up chicken bones, egg shells, and other hard foods as they can damage the disposal blades and motor.
Do – call Vista Plumbing and Rooter Pros for an annual drain cleaning to get rid of foods and debris that may have 'accidentally' made their way down the disposal.
When you need drain cleaning, call us today!